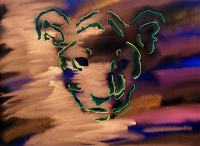 An invisible storm swirls within me,
as I cry out silently for your mercy.
Brutal winds cleave the words from me,
as down my face stream tears of pain.
Mixed with the ceaseless pounding rains,
my torn and tattered heart begs for grace.
The roar of thunder drowns out my cries,
sobbing I fall dumbstruck to my knees.
The blackness surrounds me from within,
as a single spark of light pierces through.
Casting haunting shadows in the deep and dark,
a path through the fear into the confusion.
Towards the dreams of dawns first soft light,
clinging to promised visions of hope and love.
~ Mark Schutter ©2014