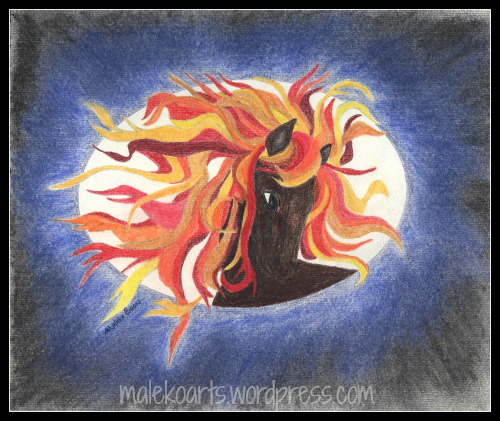 This is a new drawing I just completed and I am stuck for a name, nothing seems to fit.  So I need some help coming up with a title for the work and you could win a $10 gift card to Amazon.com.  Comment with your submission here on the blog, tweet it to @malekoarts on Twitter or became fan of the FB page – Mark Schutter – Artist, "MalekoArts" and post it there!
I will be collecting submissions until Saturday, March 9th to coincide with daylight savings time just because it sounds good.  One entry per person and you can change your title up until Saturday night, so give it some thought.
I will then post the top three (as selected by  members of an esteemed panel consisting of my daughter, my wife and myself 🙂) for everyone to vote on.  Then you can lobby your friends and family to vote for your submission if it is one of the top three and the winner will be announced on Wednesday, March 13th! (Hey, it could be your lucky day!)
I have to be honest I was prompted to do this after reading Mikael's post All the Hairspray on her blog.  She is running a contest of how many cans of hairspray she will use while in the production of Joseph and the Amazing Technicolor Dreamcoat, check it out at her blog MikShorty.
Thanks in advance for your support and participation, creating the artwork is the easy part coming up with a catchy unique name is the harder part. Join in the fun! ~M 🙂