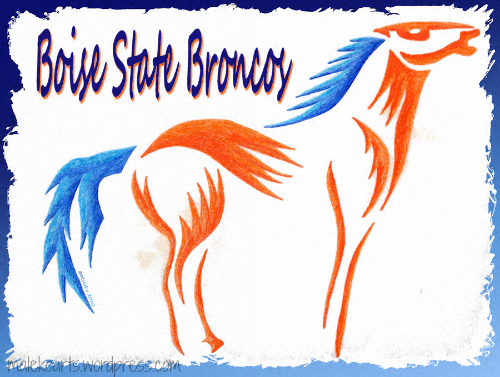 Now that the 2012 regular season is complete with a 10-2 record and another MAACO Las Vegas Bowl awaiting my alma mater (vs Washington) next Saturday, December 22nd, I now take the time to reflect.  Even remembering back to last years heartbreaking loss to TCU 36-35 and the lost hope of an undefeated season and a BCS Bowl game.  Oh well, sports will take you to the mountain top and then push you off when you turn your back.
Now living in Washington state it will be fun to watch Boise State play Washington, oh to be there.  I have been a BSU fan since the early 1970's, my dad, my sister and myself have all graduated from BSU  (my dad attended when it was still a junior college), so you could say it has been a family affair for over 40 years.  I have watched BSU win a Division 1-AA national title and then move onto Division 1-A finally realizing success after years of struggles.  But the last twelve years have been nothing short of amazing!
With the wins, the bowl games, the notoriety, climbing up the rankings in the polls and even the vocal critics and those who could not even pick our Idaho on a map, it has been one heck of a party.  With the highest win percentage at 0.870 (134-20) since the year 2000; 2 Fiesta Bowl wins including the 2007 thriller versus Oklahoma; Sports Illustrated covers and the famous blue "smurf" turf, BSU has amassed a national following and dare I say even a measure of respect.  With that, the expectations have risen almost to unrealistic proportions.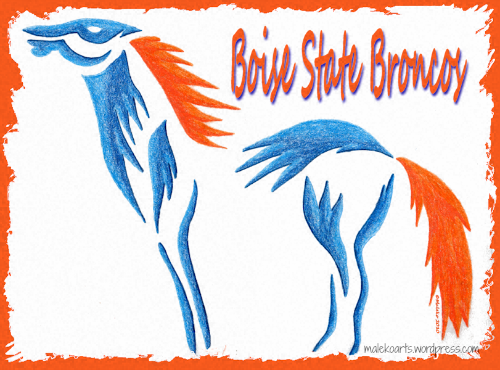 Nothing short of an undefeated season, a conference championship and a BCS bowl game is accepted.  This is absurd, most college football programs have never experienced success at the level BSU has sustained over the last twelve years much less for even back to back seasons.  Expectations are often not realistic but they can translate to goals that by hard work we attempt to achieve.
This was definitely a different team for the Broncos from the previous few years but entertaining and successful nonetheless.  I will always root for the Broncos and will always expect more than I have a right too.  But that is what being a fan is all about, right?  Win or lose my heart will always be blue, I am proud to be a Bronco alum! Go Big Blue!
Boise State Broncos!
(Colored pencil drawings of the Bronco with border and text added using Paint Shop Pro -  Maleko ©2012)