Twas the day before Thanksgiving, and all through the field.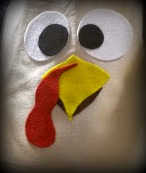 Every turkey was scurrying, unwilling to stop and yield.
The moon shone bright, as visions of stuffing danced in their heads.
They gobbled as they ran, for this was the night they came to dread.
For tomorrow would soon come, and their fates would be sealed.
With mashed potatoes and trimmings, their glory's revealed.
Happy Thanksgiving!!!
What are you thankful for?