Photos from our August trip to the Southwest Washington Fair in Chehalis, Washington.  A fun day with friends, the kids loved the carnival rides and it felt like we walked for miles.  Day was a little cloudy, cool and even light rain at times, but also sun and a gorgeous evening.  A good old fashioned fair is such a treat to escape from the hassles and stresses of everyday life.  The day ended with all the kids playing some games, you know those ones that are rigged and  you spend $10 and walk away with a 3 inch little stuffed animal.  Well it is hard to deny 4 young kids all under 8 years old, so let the competition begin.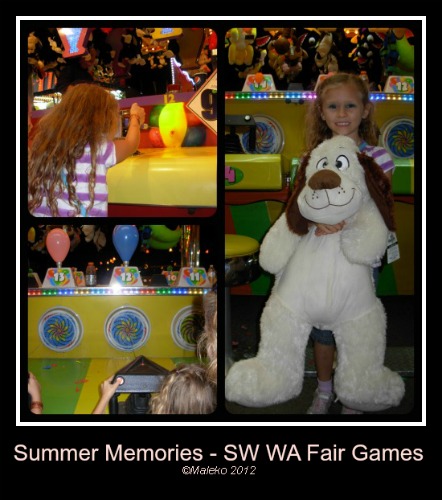 The pictures show the game where you shoot water into the hole to blow up the balloon and the first one to pop their balloon wins.  As luck would have it when my daughter wanted to play I said okay and the lady said "that's $3 dollars"  I immediately thought well here goes $3 down the drain.  But my little lovely blonde haired daughter confidently took her seat grabbing the handles and aiming at the bulls-eye.  More fair goers had sat down all around the game adding to the competitive atmosphere.  The buzzer went off and water was shooting everywhere and I noticed my little girl was not hitting the bulls-eye.  She was about 6 inches below and to the right of the target, but she quickly corrected and the balloon begin to fill.
 After about 10 seconds I glanced around the booth at the other players and their balloons and realized that my little girls balloon was as big as any of the others.  Her mother and I began to cheer enthusiastically.  Suddenly her balloon exploded in a bang and bells went off, we have a winner.  Our little Muppin had come out on top.  She did not realize that she had won!  We had to explain to her that she got to pick out a prize and because of the number of players she was able to choose from the largest stuffed animals.  At first nothing seemed to call to her and she looked around undecided at the alligators, pigs, ducks and even an alien.  But then her eyes lit on this large creme colored dog with a brown nose and ears and all else faded from her view.
 As the attendant got the dog down from its spot hanging on the edge of the booth our little girls eyes danced with joy.  This dog was almost as big as her and she quickly christened him with the name Chase, not bad for $3 dollars.  We had a great day with friends and will cherish the memories, especially every time we see Chase sitting at the end of our little girls bed!