Believe in legend.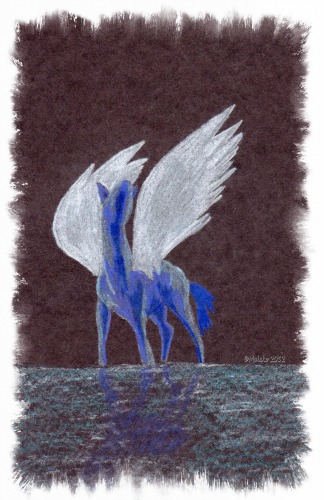 Believe in the unexpected.
Believe in myth.
â—Š
Believe in love.
Believe in the miraculous. 
Believe in hope.
â—Š
Believe in dreams. 
Believe in the undiscovered.
Believe in God.
 ~Mark Schutter ©2016
Beauty – the majesty of a winged horse standing firm against the darkness. 
Strength – wings posed for flight in silent strength ready to erupt into battle.
Knowledge – that the darkness cannot keep him bound as he is free. 
This drawing attempts to capture that still moment when strength rises and all things are possible; especially the stories told across centuries that now live in legend and myth. Do you believe there is some truth contained in the legends and myths told and retold across cultures and kept alive throughout the history of mankind?